Virgin of the Rock?
On Thursday, Sir Richard Branson's latest daft publicity stunt (this time for Virgin America) saw him shove a wedding cake in the face of his marketing director, throw himself off the roof of a Las Vegas hotel (attached to a harness), and give a bored-looking Pamela Anderson a piggy-back. Is this really the kind of man you want to own your mortgage?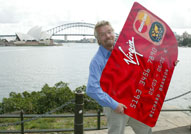 This is a very real prospect, however, after news emerged today that Branson's Virgin Group is in talks to buy ailing mortgage lender Northern Rock. Along with several others – the queue of potential suitors is getting almost as long as the queues outside the bank's branches last month.
Reports suggest the beardy one is trying to form a consortium of Middle East and US investors that would inject cash into the bank in exchange for a controlling stake. And he certainly couldn't afford to go it alone – the Rock already owes the Bank of England £13bn, while its adviser Citi is currently scraping together a £25bn funding package.
The idea is that the Rock would be brought under the banner of Branson's Virgin Money. The group's personal finance arm offers loans, credit cards and savings accounts, but hasn't had an in-house mortgage business since selling its stake in Virgin One to RBS in 2001. However, Branson's re-hiring of chief executive Jayne-Anne Gadhia from RBS earlier this year fuelled rumours that it wanted to re-enter the market.