Visit Incredinburgh! Or don't...
A new marketing campaign for Edinburgh renaming the Scottish city 'Incredinburgh', 'Paintthetownredinburgh', or 'Wellfedinburgh' has been rubbished as 'appalling' and 'twee' by local councillors. 'Some of the slogans are a bit twee and when you first hear 'Incredinburgh', I'm afraid it just doesn't cut it,' says Tory councillor Cameron Rose.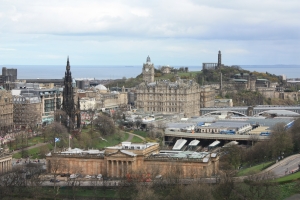 It's a bit of a blow to Marketing Edinburgh, the agency charged with coming up with a new campaign to rebrand the city. Councillors argue that with a six-figure sum at their disposal, the agency should have come up with a better slogan than their favoured choice - Incredinburgh - for the city.
Jenny Dawe, the former Liberal Democrat leader of the council, says, 'I think these ideas are absolutely appalling. You don't need silly slogans to market Edinburgh. They don't sound worth using at all, and they make me shudder.'
The campaign has now been shelved while Marketing Edinburgh attempt to come up with a classier strapline for the city. MT thinks this is a wise move. We wouldn't Beseendeadinburgh with that slogan.