Vodafone clings on as BT-EE giant is born
Vodafone finally slows its European decline as it invests in 'quad-play', but is it too late?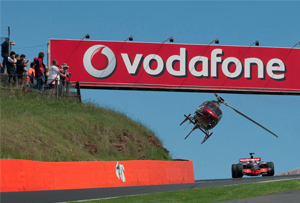 It's not been an easy few years for mobile providers. While customers are happy to stomach serious margins for their Apple or Samsung handsets, they want their network provision cheap, and they're willing to shop around to get it.
Vodafone has been particularly badly battered by this intense price competition, but seems to have steadied its ship. Today, it announced organic service revenues (a measure which ignores one off and handset sales) for the quarter to December 31st of £9.8bn, down only 0.4% on the same period in 2013. Its previous quarterly decline had been 5%.
Broken down, the results were a mixed bag. Vodafone experienced 0.9% revenue growth in the UK, and declines of 1%, 7.4% and 8.9% in Germany, Italy and Spain respectively. In Asia, the Middle East and the Pacific, where it does nearly a third of its business, revenues rose 5.9%.