Vodafone to cut £1bn costs as sales slow
Vodafone is planning a big cost-cutting exercise after slashing its sales forecast by another £1bn...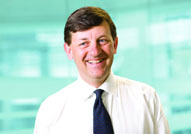 Vodafone said that it's now targeting full-year revenues of between £38.8bn and £39.7bn, lower than its previous guidance of £39.9bn (not to mention the original target of £40.7bn). The telecoms giant is clearly feeling the squeeze from the slowdown in customer spending – with sales slipping, it plans to focus on cutting costs and squeezing more revenue out of existing customers. So it might seem a bit odd that it's been the biggest riser in the FTSE 100 this morning...
It's not that the figures are all that great. Revenues were up 17% for the half-year to September, but that was largely due to currency fluctuations. Pre-tax profits fell 27% to £3.3bn, after a massive £1.7bn write-off in Turkey (where the turnaround plan is taking a little longer than expected). Margins and revenues have shrunk in its core European market, with the UK performing particularly badly. Its vast £27bn debt pile reduces its room for manoeuvre. And the £1bn cost-cutting exercise it's now planning will presumably mean job losses – possibly here on its home turf.
However, on the plus side, the results were nothing like the car crash that some were predicting. Although the sales forecast has been reduced, the profit forecast remains unchanged at about £11bn. It's still churning out more than enough cash to service its debts. And new CEO Vittorio Colao – who took over from Arun Sarin in the summer – also seems to have gone down well. Judging by his comments today, he's going to focus on making Vodafone leaner and meaner – improving execution rather than chasing expensive acquisitions in emerging markets.