Vodafone rejects Yahoo ban on home working
Mobile phone operator Vodafone has hit out at the decision by Yahoo chief executive to ban home-working, saying that British businesses can save billions by allowing people to work from their sofa.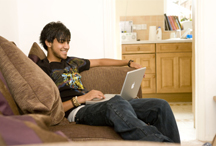 Perhaps Marissa Mayer was not expecting to make such huge waves in the business world when she banned Yahoo employees from home working, but the debate has become a global one, and now Vodafone has weighed in. It says that freeing up desk space and reducing overhead costs when workers aren't around could save £34bn a year.
It came to its conclusion by surveying 500 'decision makers' in businesses across the UK, and found that the average cost of a desk in an office is around £5,746 per year. Around 20% of companies said that they could downsize by about 46 desks if they encouraged more remote working.
Enterprise director at Vodafone UK, Joeroen Hoencamp, said: 'A potential saving of up to £34bn is staggering and this research reveals businesses are underestimating the savings they can make through reducing the number desks they have.'