Voser in as Shell makes record profits
Oil giant Shell enjoyed a bumper third quarter. It'll be a tough act for new CEO Peter Voser to follow...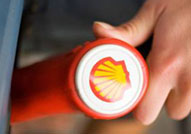 Another day, another forecast-busting profit surge for an oil giant. After BP's stellar results on Tuesday, Royal Dutch Shell has followed suit by posting a 71% jump in third-quarter profits to $10.9bn – despite a 7% drop in production. The figure includes nearly $3bn raised from one-off asset sales, while it also benefited from the escalating oil prices. But even if you strip all this out, profits were still up 44%. The star performer was its downstream division, which is responsible for all its marketing and refining – profits were up 40% in this unit, impressing the analysts. 'Satisfactory,' CEO Jeroen van der Veer said about the results, with a degree of understatement.
Of course, he knows that this is a sensitive time for an oil company to be crowing about record profits, with petrol prices still high and fuel bills soaring. These results are bound to provide another stick for politicians to beat them with; Alistair Darling has already been banging on this morning about Shell passing on lower fuel prices to drivers. Perhaps he failed to notice that Shell's retail profits actually fell during the period, as drivers bought less petrol and political pressure prevented price increases – so Shell's not exactly making a killing at our expense.
Ahead of the results, Shell also revealed that van der Veer will be stepping down next June, to be replaced by current FD Peter Voser. Voser, who had supposedly ruled himself out on the grounds that he wanted to move back to his native Switzerland, apparently fought off internal and external competition to land the role. And investors seem pleased: he's widely seen as a 'safe pair of hands' appointment, which is probably just what Shell needs as it prepares for a tricky year.