VW has served itself up on a platter to the US EPA. Who's next?
The VW emissions scandal has provided the US regulator with a superbly juicy target with no domestic downside.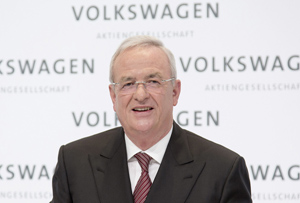 UPDATE 1400: According to German magazine Der Taggespeigel, VW CEO Martin Winterkorn is to resign 'by the end of the week', to be replaced by current Porsche CEO Matthias Mueller. A VW spokesman has called the rumour 'ridiculous'.
Oh dear. Things are really not looking good for VW. Following on from yesterday's Mea Culpa by CEO Martin Winterkorn - and the ongoing collapse in its share price, dowm 20% yesterday and more today - the diesel pollution story is now officially out of control. The firm has admitted that as many as 11 million vehcies could be affected, and if 'fessing up and saying sorry was supposed to help draw a line under the crisis, it has backfired more spectacularly than one of VW's dodgy diesels on the test rig.

The reality is that VW - which earlier this year finally overtook Toyota to be the world largest carmaker - has scored a truly epic own goal. It would hardly be possible to design a scandal more perfectly suited to making the EPA look tough whilst having absolutely minimal downside in terms of potential harm to the US industry.

'VW-Audi is pretty small in the States anyway. This will kill them in the USA, and it could affect consumers real-world view of diesel vehicles around the world' says automotive journalist and blogger Hilton Holloway.