Waitrose heralds death of out-of-town supermarkets
Big stores are out and convenience is in, according to Waitrose boss Mark Price. And watch out for the rise of the 'flexitarians'.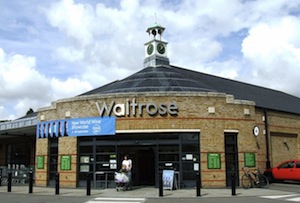 As if Tesco needed any more bad news, all those vast out-of-town megastores it built are apparently out of date. At least that's the opinion of Waitrose boss Mark Price, talking to the Telegraph ahead of the launch of the high-end supermarket's second annual Food and Drink Report today.
The big four have been building stores that reflect 'the old world' of consumer behaviour, Price said. 'They have an estate for how people shopped two decades ago.' Ouch.
Time-poor shoppers, Price said, are abandoning suburban behemoths for snappier convenience stories in a 'once in 50 to 60 year' change as important as the first appearance of supermarkets in the 1950s 'People are buying food for now,' he said. 'The notion that you are going to go and push a trolley around for the week is a thing of the past.'