Waitrose isn't immune to the supermarket squeeze
John Lewis sales were up over Christmas, but its food-focused sibling is struggling to keep up.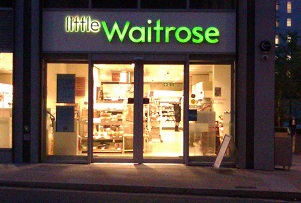 The malaise that has afflicted the grocery sector over the last couple of years has primarily been a problem for the mid-market. While the 'Big Four' supermarket chains (Tesco, Sainsbury's, Asda and Morrisons) have struggled to maintain sales, those at the discount end of the market, like Aldi and Lidl, have boomed. Meanwhile premium retailers like M&S Food and Waitrose have enjoyed solid, steady growth.
But now it seems the latter has gone off the boil somewhat. Though total Waitrose sales in the six weeks to January 2 were up by 1.2% to £859.8m, like-for-like sales (which exclude revenue generated from new stores) were down 1.4%.
That's largely down to the inescapable spectre of food deflation, which has hit the whole market hard. 'The fact is, if broccoli is half price, you and I have to eat twice as much for us to make the same money,' Charlie Mayfield, chairman of the John Lewis Partnership (Waitrose's parent) told the BBC.