Waitrose launches loyalty card
Nearly 20 years after the launch of the Tesco Clubcard, and 15 years after the Sainsbury's Reward Card, Waitrose is trailing its own loyalty scheme.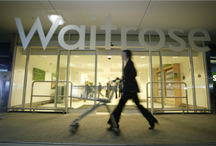 Waitrose has finally unveiled its loyalty card. Better late than never? Or could this be a case of tortoise trumps hare? Two years of painstaking research has gone into this baby. The myWaitrose scheme launched a couple of years ago as an online members club, dishing out discounts and rewards while (behind the scenes) crunching data on users' likes, dislikes and their deepest, darkest shopping desires.
From today, Waitrose is sending out its shiny, new cards to myWaitrose members and Waitrose customers on the John Lewis Partnership Card database. If you're not on these mailing lists, fear not: you can sign up in store too.
So what makes it unusual? Unlike the traditional high street 'points' systems, think Tesco Clubcard, Nectar Cards and the Boots Advantage card, the myWaitrose offering is more of an old skool members' card. Customers get exclusive access to competitions and offers and, here's the kicker, every month one cardholder per store will win back the value of their past four weeks' shopping. Another customer will win a whole year's worth of Waitrose groceries. It's a loyalty card-cum-lottery ticket.