Waitrose thanks arch-rival M&S for free advertising
The trouble with negative advertising is that it also alerts your customers to rival products...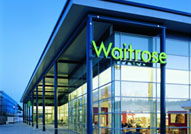 M&S has won lots of plaudits in recent times for its food advertising – 'This is not just food, it's M&S food', and so on. Unfortunately, it seems to have been left with M&S egg on its face after its latest effort. A gleeful Waitrose today offered a big thank you to its arch-rival today for the recent adverts that included the tag-line: 'Price checked against Waitrose Essentials. Quality checked by M&S'. Rather than having the desired effect of highlighting the quality of M&S's posh nosh, instead it seems to have sent shoppers scarpering to the nearest Waitrose for cut-price teabags. Presumably not quite what the M&S marketing department had in mind…

Negative advertising is always a bit of a tricky one, but in this case it looks as though it's well and truly backfired. Waitrose's weekly sales figures today showed that sales were up more than 17% in the past week – coinciding with the launch of the M&S price comparison adverts. Waitrose said sales of the featured teabags were up 96% compared with the same week last year, while other items mentioned in the ads, including pasta and sausages, were up 40%. Presumably that's unlikely to be a complete coincidence.

In fact, it wasn't just Waitrose that had cause to celebrate today. Sister company John Lewis had a good week too, with sales up 13.2% thanks to the success of its Home range and better sales in its electronics and home technology division. Eager Christmas shoppers also helped bolster footfall at its Oxford Street store, where takings were up a remarkable 16%.

But it's Waitrose's soaring sales that are likely to infuriate M&S, which has been desperately trying to arrest the customer drain it suffered at the start of the recession. Particularly since it's invested heavily on its advertising campaigns in the last few years, enlisting the held of celebrity endorsers like pop group Take That, TV host Myleene Klass and sixties pin-up Twiggy to help them flog their wares. But today's figures are bound to raise questions about its more aggressive approach to the competition – particularly in the run-up to Christmas, when every penny really does count. Looks like it's back to the drawing board, then...

In today's bulletin:
Walsh takes the controls as BA and Iberia agree merger
Waitrose thanks arch-rival M&S for free advertising
Porsche's profits go into reverse after dodgy engineering
Recovery could be 'worse than recession' for SMEs
Bad bosses driving away staff - the CMI responds