Wal-Mart's Mexican adventure
American retail giant Wal-Mart has had clearance to open its own bank in Mexico. Its promise of 'accessible banking' should be a big hit among central American savers – at least if the 'pile 'em high' approach to stocking its store shelves translates to customer savings.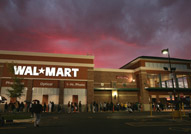 The bank, to be known as the Sam Peckinpah-esque Banco Wal-Mart de Mexico Adelante may open as soon as next month and comes as a boost to the retail giant, which had to pull out of its plans for a US bank after it aroused huge controversy among unions, consumer groups and some existing banks.
But it's not clear how closely the Mexican bank will follow the low-rent, out-of-town model it employs at its stores. Let's hope not too closely. Customers aren't likely to want to frequent a 20,000 sq ft branch out in the country's barren Sierra Tarahumara only to have to shepherd their savings across treacherous territorio bandolero to get back to town. Still, if they can pick up a pair of cheap jeans, a ratchet set and a burrito at the same time, then maybe it'll catch on.