Walker goes down like a lead balloon
If the private equity industry was hoping that all those nasty critics would leave it alone now the Walker report has been published, it's come in for a very rude awakening. Most of the constituencies that the transparency review was intended to placate - the unions, the politicians and even the media - have already started laying into it. And it's only 24 hours old.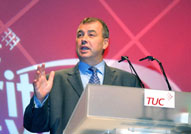 The major criticism appears to be that it doesn't go far enough. Walker's insistence that the guidelines should be voluntary (to maintain flexibility) has not gone down well, with most of private equity's opponents unconvinced that the industry can be relied upon to police itself. Nor has his refusal to recommend that firms should disclose details of their fees and partner salaries.
First up to the plate was TUC firebrand Brendan Barber, who reckons there's a danger that the report 'will prove toothless'. It was 'plainly wrong' that firms should not have to disclose fees, he insisted, while 'allowing the paymasters of private equity to remain in the shadows' was also a big mistake. 'This review has only covered one small part of the public's concerns on private equity,' he scoffed. 'The issues of jobs, treatment of employees, debt, tax and the wider economic impact of private equity were not even part of the remit.'
The GMB's Paul Kenny was equally scathing, saying it was 'madness even to contemplate' a voluntary code. 'These are the people who brought us the Northern Rock fiasco and their reckless and heedless pursuit of multi-million bonuses could spill over into a recession,' was his somewhat far-fetched conclusion.