Wall Street lined with gold?
For those of you in any doubt that business was better than sex, Friday's auction of the internet domain name WallStreet.com could have set the record straight once and for all.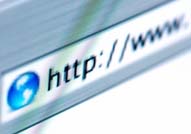 The address had a reserve price of $4-5m, but optimistic auctioneers Moniker.com told Bloomberg that it could go for as much as $10m. A cash bid of this size would have beaten the current record of $9.5m paid for Porn.com earlier this year (although it would still lag the rumoured $12m in cash and stock paid for Sex.com in 2005).
Not content with outstripping sex, a $10m sale price would also have demonstrated business's superiority to technology (computers.com), alcohol (vodka.com) and – believe it or not – fiscal policy (tax.com).
Unfortunately, it was not to be. In the end, the domain name was left unsold after reportedly failing even to attract the reserve price, let alone the record-breaking sums suggested.