Walsh gets 11% pay hike - as chief execs cash in
The BA boss will be earning over £800,000 when he takes the helm of newly-formed IAG - but that's small change compared to some of his peers.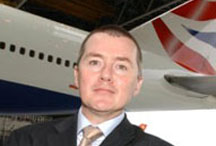 Looks like Willie Walsh may be handsomely rewarded for all his hard work this year: the embattled British Airways CEO, who has spent most of 2010 handling strikes and various natural disasters, will apparently be getting an 11% pay rise when he becomes head of International Airlines Group, the company formed by BA's £5.9bn merger with Iberia. That may go down like a lead aeroplane with unions – but given an Income Data Services report out today showing that the average FTSE 100 senior exec salary is just under £5m, £800k suddenly starts looking quite reasonable…
Walsh will apparently end up with a salary of £825,000, plus a bonus of £1.65m, plus a similar amount in shares (he's not taken his bonus for the last couple of years, so perhaps this is pay-back time?). And he's not the only one in line for a pay rise. Keith Williams, currently the airline's finance director, will bag a £630,000 salary as the boss of the BA operating company, which will still be run as a separate entity. And chairman Martin Broughton, who made headlines yesterday by slamming US airport security measures, will apparently be rewarded with a £305,000 salary, plus a €175,000 'integration bonus' (whatever that means), when he takes up his position as deputy chairman of IAG.
No word yet on how the unions feel about Walsh's big pay hike. But the timing is a little awkward. After BA's latest concessions on travel perks, the two sides do seem to be close to cutting a deal - but things are still on a knife-edge, and the pay deal on offer to staff (2.9% next year and 3% in 2012) might suddenly seem a bit paltry in comparison.

Then again, even an 11% pay rise seems trifling if you consider that IDS report released today, which shows that senior directors at FTSE 100 companies have seen their salaries rise by a remarkable 55% this year, to an average of £4.9m. By far the most gigantic was that of Bart Brecht, the CEO of Cillit Bang manufacturer Reckitt Benckiser, who took home a whopping £93m; others to fill their boots included Mick Davis, chief executive of mining group Xstrata, who earned £25.5m and ICAP CEO Michael Spencer, who made £24.7m.

Good news for FTSE bosses with a yacht habit. But it's unlikely to go down well with Business Secretary Vince Cable, who only this week launched a review into excessive executive pay. Although the City was the main target of his ire (he warned bankers not to engage in another 'self-indulgent bonus round' this year, though we'll believe that when we see it), he'll also be poking his nose into big public companies too. Stats like these only emphasise his point about senior execs appearing to live in a different world from the rest of us...