Want a pay rise? Move to Romania or Kenya
A new report claims that UK managers' salaries are amongst the lowest in the world, in real terms.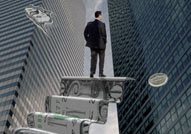 Here's a statistic that will make you feel even more undervalued in these overworked, underpaid, expense-account-deprived times: the UK has just been ranked 43rd of 56 countries worldwide in a new study of global management salaries. Management consultancy Hay Group reckons that once you factor in the higher cost of living, British managers are actually among the worst-paid in the world. And now Alistair Darling has decided to ramp up NI again, our ranking could get even worse…

According to Hay, Brit managers ranked behind the likes of China, Mexico, Hungry, Slovakia and even Kenya in the disposable income stakes. At the top end of the scale, the oil-rich Gulf states dominate: managers in Qatar are the world's best paid, followed by those in Kuwait, United Arab Emirates, Saudi Arabia and Oman (just don't mention Dubai). You may be surprised to learn that Romania is the highest ranked European country, in 8th, followed by Turkey in 9th. Ireland (16th), Greece (17th) and Portugal (20th) are also way ahead of us on the managerial pay scale.

What's more, our cost of living is likely to get worse before it gets better. Inflation may still be slowing, but with tax rises inevitable when the Government gets round to plugging the enormous hole in the public finances, it seems likely that we'll all have a lot less money in our pocket before too long. The Chancellor's Pre-Budget Report contained changes to pensions and income tax as well as that NI hike, while the end of the temporary VAT cut in January will also boost the cost of living.

Still, being optimistic types, we suppose the good news is that at least Hay's report (which compares data from the company's PayNet database alongside local taxation levels and costs of living) should put paid to any suggestions that Britain's managers are a bunch of over-paid fat cats – no bad thing, given the opprobrium currently being dished out to bankers.

And equally, it's worth pointing out that most of the big developed economies are languishing in the lower half of Hay's table. That's not just because of higher living costs; it's also because they enjoy a greater supply of qualified managers. Salaries are about supply and demand – if you're a rare commodity, you get paid a lot more – so Britain's lowly ranking is in part an indication of strength in depth. Although if the Government continues to target high earners, some of this strength might start disappearing to Zurich in the next few years...

In today's Pre-Budget Report Special:
Darling hikes NI again - and hits banks with bonus tax
Editor's blog: Darling thinks small in Pre-Budget bore-fest
EasyJet boss hits the eject button after Stelios spat
Want a pay rise? Move to Romania or Kenya
A Life of Enterprise: The small print, or, Ernie and Edna