Want to be successful? Think like Frankenstein
The one and only Shed Simove, Ideas Man and author of 'Success or your money back' has shared a few of his tried and tested tips on getting what you want in business (and life).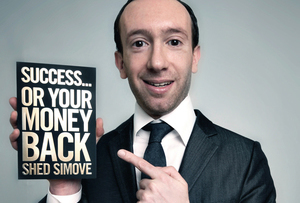 Be like Frankenstein
As I'm sure you know, Frankenstein was the fictional scientist who breathed life into his famous monster. Like him, it's absolutely essential that you give a proper birth to every good idea you have. Each idea you think up is like a delicate newborn baby and unless you give it two things, it can easily die.
It needs: food and armour. The most important meal you can give an idea you have is to immediately write it down or make a note of it. How often have you thought of a fantastic idea, only to forget it a few hours later or the next day? By turning the ideas you've written down into some kind of initial mock-up, rough sketch or model (this is the armour bit), it will immediately give your idea a massive boost in power and give it the best chance of living a fruitful life.