Warren Buffett cuts his Tesco losses with 1% share sale
Yet more bad news for Tesco as the world's richest investor puts his money where his mouth is and sells off a chunk of his stake.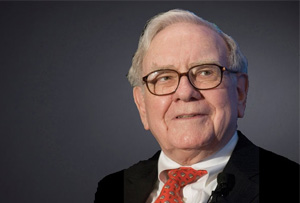 In case anybody needed further confirmation that Tesco is firmly up the creek, its fourth largest shareholder has dramatically cut his stake. Warren Buffett, the 'legendary' US investor (as far as MT knows, he does actually exist – people have seen him), sold 75 million of his 322 million shares on Monday, leaving him with a measly 245.3 million. This leaves his Berkshire Hathaway fund with 3% of Tesco's equity, down from 3.98%.
The 'Sage of Omaha', known for his penchant for burgers and cherry cola, first invested in Tesco in 2006 as it planned its doomed attempt at entering the US market. He spent $2.35bn (£1.46bn) acquiring a 5.2% stake between then and early 2012, but as the Tesco accounting scandal took hold has admitted he made a 'huge mistake' backing the supermarket.
Buffett's decision to pull out at least some of his stake shouldn't come as a surprise, given those words, but it's hardly what Tesco's management (or what's left of it) and its other stockholders want to hear. The share price has fallen a further 5.57% since Monday morning, to 173.75p in mid-morning trading on Thursday. In the last year it's lost over half its value. You don't have to be that sage to know when to cut your losses.