Warren Buffett: Investing in Tesco was a 'huge mistake'
Even the legendary, long-term investor is turning his back on the struggling supermarket.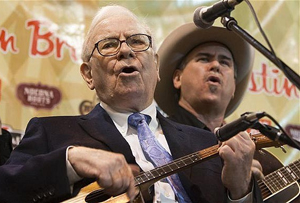 Even after a £250m accounting overstatement was uncovered last week, new Tesco boss Dave Lewis will probably have been hoping some of the supermarket's biggest investors were in it for the long haul. But now even famously far-sighted investor Warren Buffett is rueing his investment in the beleaguered company.

'I made a mistake on Tesco. That was a huge mistake by me,' he told CNBC today.

Berkshire Hathaway, Buffett's investment, started buying Tesco shares in 2006, building up a 5% stake – his largest investment outside the US. He had talked up its UK dominance and long term growth prospects in developing countries.

But last October, it cut its holding to just under 4%, after it became clear Lewis' predecessor Philip Clarke was failing to mop up the mess created by Terry Leahy's over-enthusiastic overseas adventures (for example, exiting Fresh & Easy in the US cost Tesco £1.2bn).

It remains to be seen whether Buffett will cut his stake further, but with the supermarket's sales and market shares continuing to slide, he may not wait to see whether Lewis can turn the tanker around.