Warren Buffett: voting against Coca-Cola's pay plan would be 'un-American'
The Sage of Omaha abstained from voting down stock options for executives even though he disagreed with it.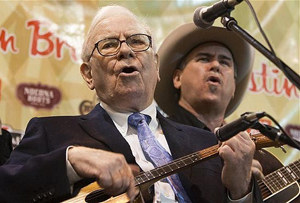 If shareholders don't like something, they can vote against it. That's how company AGMs are supposed to work anyway.

However, billionaire investor and philanthropist Warren Buffett decided not to challenge Coca-Cola's 'excessive' plan to award its executives stock options, despite disagreeing with it, telling CNBC he still believes in the company and its management.

'Taking them on is a little bit like belching at the dinner table,' Buffett, whose investment company Berkshire Hathaway is the drinks giant's largest shareholder, said (although given he famously drinks Cherry Coke, MT wouldn't be surprised if Buffett sneaks out the odd burp). It would be 'kind of un-American to vote no at a Coke meeting', the apparently patriotic investor added.

The Sage of Omaha said he had voted for compensation plans he didn't like in the past and said he had never heard anyone on a board speak out against them in his 55 years at boardroom tables.

However, Buffett has long been critical of stock options, saying they were for 'managerial Rip Van Winkles looking to take a doze' in 1985 and calling them 'free lottery tickets' in 1994.

Nonetheless, although Berkshire Hathaway doesn't give stock options to Buffett and his executives (the 83-year-old gets a relatively low salary of $100,000), the world's second richest man is not one to rock the boardroom boat. It clearly hasn't done his investments much harm anyway.