Another weather-beating for the high street
The ONS has revealed that retail sales were down 1.3% in April compared with the previous month. BUT there could be light at the end of the tunnel...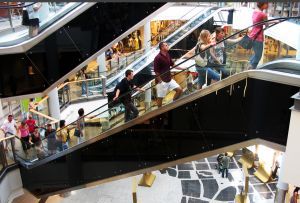 The freezing Q1 weather and then the bucket loads of rain in April have done no good to high street retailers. The ONS today blamed the inclement weather for a 1.3% drop in retail sales, but did point out that volumes were 0.5% higher than in April last year. The year-on-year rise may sound like good news, but unfortunately it's considerably less than the 1.2% analysts were expecting. So no silver linings here.
The ONS said food sales plunged 4.1%, accounting for the bulk of the fall, mainly because summer ranges of food (mainly designed to stick on the barbie) were hardly selling like hot cakes while the rain continued. Garden furniture also took a hit. In any case, this is the worst drop in food sales for about two years, and ripples from these worse-than-expected figures were felt in the City this morning. The news prompted a sharp drop in the value of the pound, 0.5% against the dollar to $1.5083, which is a seven-week low.
If you're wondering about what's caused the sales drop (do people really eat less when it rains?), look no further than Tuesday's inflation figures. Food showed a sharp price rise in April (about 0.7%) which has no doubt impeded people's supermarket spending. The ONS said: 'This rise in prices will have squeezed consumers' disposable income, possibly resulting in them buying less or substituting cheaper goods for their normal purchases.'