My Week: Abi Wright of SpaBreaks.com
The spa getaway entrepreneur talks early starts, cracking the London market and providing tailored treatments.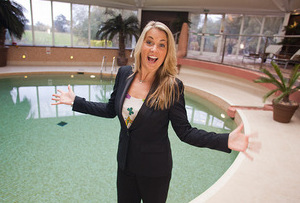 We organise spa breaks for about 2,000 people a week. The company represents high-end brands, but a spa day isn't as expensive as you might think – the packages on the website start from £19 a day. I started SpaBreaks.com in 2008 with two staff and in three years that's grown to a team of 35. We arrange treatments with 380 venues in the UK and another 70 abroad.
Three months ago I launched a programme called Recovery Retreats, which focuses on spa treatments for cancer sufferers. It started after I got a phone call from a lady who, when arriving at a spa, had been refused treatment because she had been having chemotherapy. Cancer patients need to be careful about using Jacuzzis and steam rooms as it can provoke the flow of lymphatic fluid and could cause the cancer to spread. We work with venues in the UK to arrange programmes that focus on the relaxation side of the treatment – sitting by the side of the pool, and walks in the woods, for example. We also work with staff that have been trained to adapt massages for cancer sufferers, and who can provide emotional support to the customers. It's about finding tweaks to the traditional spa day with cancer sufferers in mind.
I live in Newbury, Berkshire and the office is in London, so it's an early start. I leave the house at 5.30 on a Monday morning to arrive at the office at 8am for a sales meeting. We'll go through the sales figures for the week and talk about what we have coming up in the week ahead. We're open seven days a week, but we still come in to 400 queries every morning.