The week according to MT
Our 60-second guide to the highlights of this week's business news - from the boardroom, to the court room, to the beauty salon...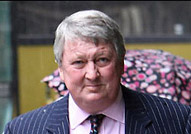 This week has been notable for former corporate darlings suffering from some serious reputational damage. BP got hammered with a big fine after admitting price-fixing and environmental damage charges in the US, and also admitted to a huge fall in profits. GlaxoSmithKline also saw profits slump amid the continuing row over its diabetes drug Avandia, and like BP, announced a major restructuring.
But for Michael Bright, it's too late for that. The founder and former chief exec of Independent Insurance (at one stage Britain's biggest insurance company) got seven years in prison for his fraudulent part in the company's demise.
Elsewhere, some other big names have been banking on technology to stay ahead of the pack. Microsoft bought a minority stake in Facebook that valued the social networking site at $15bn, while on a smaller scale the Post Office revealed plans to launch a broadband service aimed at first-time users. And IBM's prowess in this area helped it to snatch the London congestion charge contract away from Capita.