The week according to MT
Our 60-second guide to the highlights of this week's business news – more gloom about the Rock, enterprise skills come under the microscope, and a plaintive cry from the health and safety profession...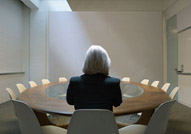 Another week, another stream of misery from the financial markets. Northern Rock was back in the headlines, after Luqman Arnold threw his hat into the ring ahead of today's bid deadline, and the FT revealed it would owe the Bank of England money until at least 2010. Barclays was forced to own up to a £1.3bn write-down on its sub-prime investments (amid rumours that it had lost as much as £10bn). And the IoD was feeling pessimistic about the future – for a change.
There were some happy faces around – Sainsbury boss Justin King earned himself a multi-million pound bonus with another bumper profit increase, while beleaguered Airbus finally started shifting some planes. But they were in a minority: ITV chairman Michael Grade saw his shares hit another new low, while Carlsberg's amicable pursuit of S&N became decidedly unfriendly. And fans of Ebbsfleet United were decidedly unimpressed with the club's 20,000 new owners…
With Enterprise Week in full swing across the country, there was plenty of discussion about how to nurture the next generation of business leaders. As usual, schools came under the cosh: some observers think they don't provide enough skills training, particularly for dyslexic children. Women's Enterprise Day on Wednesday (when our editor chaired a debate as a lone thorn among 60 roses) threw up some interesting statistics about the typical CEO profile, and women's progress towards the upper echelons of British business. On the other hand, Thursday's sale of Agent Provocateur reminded us that entrepreneurial success can often come at a price.