The week according to MT
Our 60-second guide to the best of this week's business news: the Rock sinks like a stone, the government vies with the England football team for the public's disdain, and absenteeism gets ever more imaginative...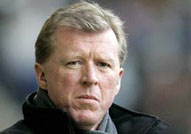 It's been a week to forget for the government. Not content with managing to lose 25m people's confidential details, it's also come under huge pressure about the future of Northern Rock, whose share price has plummeted this week after failing to attract any sizeable bids (in fact, news that Paragon might also fall foul of the credit crunch sent stocks plunging across the sector). And following Enterprise Week, a survey revealed that its reputation among SME owners is at an all-time low.
Meanwhile England's football team carried the hopes and dreams of a nation on its shoulders for the crucial qualifier against Croatia – and promptly dropped them. The failure to reach Euro 2008 will cost retailers millions and has already forced Umbro and Sports Direct into profit warnings. Sponsors Nationwide may have cashed in from Northern Rock's woes, but its name will not be adorning a winning team next summer.
And it's not just England's footballers and backers that are feeling sick as a parrot right now - this week there was much sniffing at the 'sick-note' culture gripping the rest of the nation. First there was the government's decision to introduce a new disability test - a response to a growing list of complaints that have kept noses firmly away from the grindstone, including obesity, acne, leprosy, tiredness and gout. Apparently 200 people cried off last year citing swollen testicles. Is that somehow connected to the current success of SSL? We're not sure. But the owner of the Durex and Scholl brands posted a big jump in first-half profits this week.