The week according to MT
Our 60-second guide to the best of the week's business news: mixed messages from the banking sector, mixed receptions at the CBI conference, and mixing CEOs at MT's 'Britain's Most Admired Companies' awards...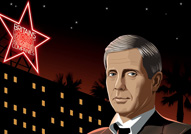 The financial news continues to be dominated by the Northern Rock saga: Virgin emerged as the bookies' favourite on Monday after being named preferred bidder, although some interested hedge funds seem keen to upset the apple cart.
But while the Rock continues to be a money pit for the Treasury, other UK banks seemed in much better health. Barclays said it was on course for record profits, while Alliance & Leicester and Bradford & Bingley both enjoyed a share price bounce after reporting better-than-expected numbers. Some other bankers had less cause for celebration: the NatWest Three are facing three years in prison (albeit probably in the UK).
The annual CBI conference saw the Tories in a full-on bid for the business vote. David Cameron criticised Labour's 'big government' and promised to lead the opposition to the controversial CGT hike; Chancellor Alistair Darling hinted that he might yet back-track. And one of the big beasts of the private equity jungle, Blackstone boss Stephen Schwarzman, got a mixed reception.