The week according to MT
Our 60-second guide to the best of the business news: Merv swerves as the high street creaks, Sir Keith Mills shows the value of Loyalty, and a Sunderland nightclub bans its best customer...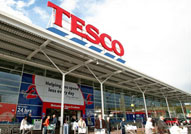 The week got off to a rocky start with profits warnings from the restaurant sector, sending leisure stocks plunging, and gloomy data emerging on the housing market, the service sector and consumer confidence. It wasn't all bad news: Tesco remains as surefooted as ever – it's been racking up record numbers in Europe and Asia, and is now planning a major assault on the US – while high street retailer JD Sports also seems to have escaped the ordure. And RBS said on Thursday that it was on course for record profits despite the credit crunch. But overall the picture looks increasingly glum – so it was no surprise when the Bank of England cut interest rates on Thursday.
With turmoil in the markets, media mogul Rupert Murdoch has clearly decided to put his faith in institutions: religion, after snapping up faith website belief.net on Monday, and family, appointing his son James as heir apparent to the News Corp empire. Murdoch jr is very keen on CSR – an area where the BBC has a lot of work to do, judging by this week's trust classes.
Three girls who've clearly been paying attention to their teachers were Zoe, Rachel and Sylvie of Leeds Girls High School, winners of this week's National Schools Business Competition (where MT chaired the judging panel). Perhaps one day they can emulate the success of Britain's top entrepreneurs – like Sir Keith Mills, who made a fortune by selling his Loyalty Management business this week. Not that the government seems keen to encourage them – small businesses face more red tape after its latest proposals to crack down on income shifting.