The week according to MT
Our 60-second guide to the best of this week's business news: the Rock falls out, the Chancellor chickens out, and the WAGs work out...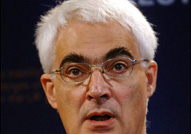 Not much pre-festive cheer on show this week. Northern Rock continues to sink like a stone – this week it dropped out of the FTSE 100, lost its chief executive and possibly alienated potential saviour Luqman Arnold. It's fast becoming a political football, with the Government's handling of the crisis coming in for all kinds of criticism. Speaking of interventions, the central banks teamed up to bail out the money markets after the latest round of whopping sub-prime losses – this time it was UBS, who wrote down £10bn on Monday – but it may not be enough to cure the general malaise.
Further evidence that the country's going to hell in a handcart came with gloomy economic figures on inflation, housing and wage growth. In fact, the police are so disgruntled with their latest pay deal that they're threatening strike action. All at a time when criminals seem to be everywhere we look – as well as hearing about fraudster Conrad Black (who got six-and-a-half years' bird this week) and some clever email spammers, we were also told that leaving Christmas shopping in the office is far too risky. Not to mention that chocolate prices are going up. And almost more depressing – the release of a WAGs workout video suggests that being a footballer's wife is now the height of some people's ambitions…
It wasn't all bad news, however. Cadbury hasn't been too badly affected by the credit Crunchie – chocolate prices are up but the company's recovery seems to be on track. The mining sector continues to be hot, with all sorts of potential tie-ups on the cards. Luxury goods companies are still coining it. And the much-maligned Lada turned out to be a big money spinner for a Russian company.