The week according to MT
Our 60-second guide to the best of this week's business news: gifts from the East, a sprinkling of festive cheer, and a star is born...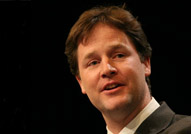 Things have been calming down slightly this week, as the business world started casting covetous eyes at the mince pies and turkey curry ahead over the Christmas period.
Of course, the Northern Rock saga's been rumbling on – its shares rallied briefly this week after a report that Bradford and Bingley was interested in buying a stake, but with is potential suitors still struggling to raise funds, the threat of nationalisation looms ever larger. In the US, banks hit by the credit crunch are looking east for balance sheet salvation – this week Morgan Stanley brought in a Chinese sovereign wealth fund, while Merrill Lynch may be turning to Singapore.
There were some good news stories on Britain's high street – a pretty rare event in recent weeks. As the Christmas rush finally began, M&S looked likely to enjoy a teacake windfall, Debenhams was boosted by the interest of a wealthy retail investor and even poor old Sports Direct saw its share price rally (despite unimpressive results).