The week according to MT
This week: bear markets, bare necessities and bare naked celebrities.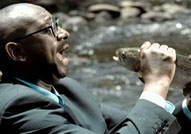 This week's banking results weren't quite as bad as everyone expected, but that didn't stop FSA chief Hector Sants weighing into the row about bankers' bonuses. But with the credit crunch showing no sign of easing, shares were down across the sector. HBOS was hardest hit after reporting flat profits and falling margins - we recommend it stops spending money on those awful Halifax ads.
But there are some optimists out there: MT's top entrepreneur Peter Cullum is apparently in talks to sell part of his stake in Towergate (possibly to give his managers a timely bonus), while Visa is ignoring the market miasma to press ahead with North America's biggest ever IPO.
Meanwhile private equity bigwigs tried to put a brave face on things at their annual Super Return shindig in Munich, after outspoken Alchemy boss Jon Moulton kicked proceedings off by having a pop at them all… There were a few blushes at Egg, which has apparently cancelled the credit cards of three millionaires. And there was also a parting of ways at BAA, where CEO Stephen Nelson is being eased out after 20 inglorious months, and at ITV, where Michael Grade has replaced Simon Shaps with Peter Fincham (the ex-BBC man famously ousted last year over the 'Queengate' scandal). Another entertainer heading for the exit was Mr Hocus Pocus, sacked for performing a magic act when he was supposed to be off sick.