My Week: Arnold du Toit, Rolley Golf
The inventor on how he got the idea for his ride-on golf trolley, and why he's lost digits in the quest for that entrepreneurial buzz...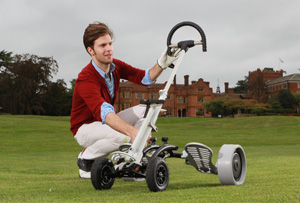 This week's been pretty full-on. It's the week building up to our South African tour – we've been invited by a couple of large companies to demonstrate the electronics in the Rolley Golf, the ride-on golf trolley I invented. That means getting all the electronics developed to the point where we can have the product in front of customers. That's involved me travelling in various different directions across the UK: my mechanical manufacturer is based in Leighton Buzzard, in Bedfordshire, and my electronics manufacturer is in Swanley, in Kent. Which is all a bit of a slog from Waterloo, where I live.

Building things and trying to think of ways to make money from them has always been a passion of mine. When I was a kid and we were living in Paris, I actually ripped a finger off with one of my inventions: I built an electric taxi to ferry the other kids up and down the road, and charged them 20 cents a go. That lasted until I got my first franc, when it took one of my fingers off. They managed to sew it back on, though, so I staged a full recovery.

I came up with the Rolley Golf in late 2007, when I was playing golf with a friend of my Dad's. He hopped on to his electric trolley one day and it broke. He was really tired and probably hungover, so there was lots of swearing and cries of 'I paid £800 for it'. I went and did my research, and found out that back in 1969, there was a concept where they focused a lot more on the ride-on aspect of a trolley. So I decided to focus on a powered golf trolley. As a result, it's remote-controllable, folds up smaller than the competition – and then it has this hidden secret which is the mechanism that allows you to fold it open, hop on and ride whenever you wish.

From there, I took my idea to London South Bank University and did a masters in enterprise, which is attached to the Enterprise Associate Scheme – they act like investors for small start-ups. I worked really closely with two lecturers at the university, who held an interview with me and liked the idea. So I spent the next two years studying for my masters and developing my product.

Other than preparing for South Africa, it's Global Entrepreneurship Week, so I've been to a few events. Meeting entrepreneurs is one of the things I love the most about running my own business. You learn so much, regardless of what industry they're in. I met a girl yesterday who runs a dance school. I was talking to her production guy who does films. We're actually doing a viral campaign on Friday in London, so he ended up giving me about 20 points on filming – everything from angles to how fast objects in shot should move. We were standing there, holding our glasses of red wine and eating nibbles, and the next thing I knew, he had a notepad out and was scribbling away. It was brilliant.

I try to finish work before 8pm. I live about five minutes from our offices, so I go for a two-hour run around Westminster, or spend some time on the driving range. Although it's rarely the same. For the past few weeks, things have been a bit mental around here…
- Arnold du Toit is the winner of the PC World Business Generation Y Not? competition.