My Week: Avi Lasarow of Trimega Laboratories
The Trimega boss on being a drug testing pioneer, going global, and why running your own business is just like sport.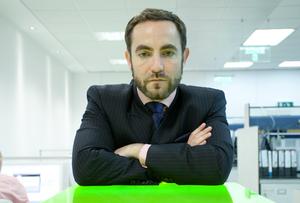 I love what I do. Trimega Laboratories is in a micro-niche, undertaking drug tests for the family courts. If a child is deemed to be at risk, our technology is used to test for a pattern of drug abuse. These days we also test for alcohol. We are pioneers in the field and our method of scanning hair for long-term alcohol abuse is now the gold standard.

Being a pioneer, you completely revolutionise a market. We have doubled the size of the industry and currently run around 10,000 tests a year.

Trimega has been going six years. In the first year we did about £140,000 – not bad when you've started with nothing. This year, we're heading to a turnover of £6m. A lot of the growth has come from diversifying into different industries. As an entrepreneur, you go where the opportunities are, so I spend a huge amount of time travelling the world, picking up contracts from new and interesting clients.

Our latest project is with the Brazilian army. New conscripts need to be drug-tested after enrolment. The deal was brokered with some help from UKTI, and Deputy PM Nick Clegg flew over to celebrate our win.

I also do a lot of work in my homeland, South Africa. There's a real problem with foetal alcohol syndrome over there, caused by women drinking during pregnancy. At the moment, I'm flying back and forth twice a month, spending a fortnight in Cape Town and then here in London.

We're headquartered in the City, on Old Bailey, but Trimega also opened a lab up in Manchester in February this year. We're making a £1m investment in the area, which feels like a lot of money but is actually a good economical move for us. Brilliant Manc scientists come at a fraction of the cost of their London-based counterparts.

Being a global company with so many offices around the world has its downsides. I hate to delegate; I never trust people to do the tasks I give them and am constantly double-checking their work. Being an entrepreneur is like doing sport. I've been completely focussed on my business for the last nine years and I never want to take my eye off the ball. This is particularly true now that Trimega is the market leader in its field. The highest tree always gets the most wind and competition gets tougher the bigger you grow.
This is a curious business, half super hi-tech, half stuck in times gone by. Solicitors are still really old-fashioned when they communicate. We get about 100 faxes every day - and I read all of them. On the flip side, we're currently working on unique testing technologies for the antiretroviral market. That's cutting edge science.
There's a huge weight of responsibility in this industry. Timeliness is everything: a child might be living in social care while the court waits for our results. While the pressure is undeniable, it also gives everyone who works at Trimega a sense of purpose, a social edge. There's nothing like producing test results in record time and getting a child back to their family as soon as possible. It makes all the stress worthwhile.

Find out more about Trimega