My Week: Ben Way of The Rainmakers
The former Young Entrepreneur of the Year on a busy week for his corporate venturing group...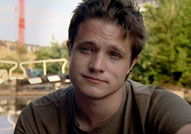 The business that's taking up lots of my time at the moment is Go Green Plumbing (an environmentally-friendly take on the old trade), which is going great guns – so much so that we've had to double our staff in the last two weeks, which has been pretty challenging… I've been busy driving around in their electric vans and talking to lots of property companies, trying to convince them to go green. So far, I've been really heartened by the response.
In fact, our next step is going to be to launch an electrician service, Go Green Electricians; since our systems are so much better than those out there in the traditional market, we're finding that our clients are asking us to do more and more stuff. Personally, because I'm so used to doing things in the virtual world, I love the fact that it's a real physical business. And I've certainly learned a lot about plumbing – though I'm finding out far too much about people's blocked toilets for my liking…
Elsewhere I've been doing a bit of media work, including a Channel 4 project that they won't let me talk about yet, and also working on our strategy for ViaPost (a service that allows people to send letters from their computer). I've been also busy with Smarta, which is a new portal for entrepreneurs – I'm the interim CTO, so I've been working with the designers getting the site ready for its launch in September. We have this great design company called Splendid – in fact I like them so much that I'm also going to be working with them on a new venture I'm about to launch (a kind of next generation eBay/ Gumtree).