My Week: Ben Thompson of Fruitdrop
The city slicker-turned-entrepreneur explains why fruit can be a 24-hour business...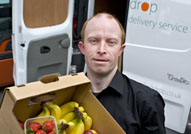 One of the highlights of last week was a brand new large client: a large government department in North London. We received a phone call from them at the start of the week and went in to meet their corporate services manager, and all the decisions happened very quickly: we gave them various pricing scenarios, and within four days we'd been appointed as their fruit supplier. So today I went to make the first delivery with one of my drivers. They're in a large office building with 12 floors and no dedicated goods lift, so we need to work out the most efficient way of doing it - I suspect it will involve getting there at about 5 or 6am in order to be able to avoid being held up by peak hours lift traffic...
That's actually one of the big challenges of this business: the logistical side happens overnight, when the fruit markets are open and we can buy our produce, but the administrative side happens during the day when our clients are in their workplaces. So I tend to find myself working ridiculously long hours. For instance on Sunday, I usually get to the fruit market at 6am in the morning and I'm still there at 6am the following day. So 24 straight hours, making sure everything's packed and checking that all 300 boxes are ready to go out on Monday morning (there's a bit of sleep time, but not much!).
One of the issues I have at the moment is that I still look after most of the logistical side myself - and because the business has grown so exponentially, that's putting me under pressure. So another highlight of this week is that I started advertising for an operations supervisor, in order to take some of that burden off my shoulders. Currently I spent about two-thirds of my time on logistics, but I want to find someone who can take most (if not all) of this off me. Then I can spend more time leading the business into other parts of the UK - we currently operate in London and the Home Counties, but that will hopefully change within the next year.