My Week: Charity Challenge's Simon Albert
The charity trek organiser tells us about his upcoming Comic Relief trip and the problems facing tour operators...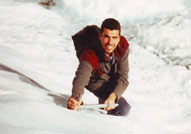 This week I've been spending a great deal of time on an African trip we're doing next year, when a group of celebrities (including Cheryl Cole, Gary Barlow, Denise van Outen, Chris Moyles, and Ronan Keating – plus a team of media people) are climbing Kilimanjaro in aid of Comic Relief. By its very nature, it's completely unlike any other trip that we do. So as well as doing all the usual logistical things – flights, logistics, equipment etc – I've been dealing with various security issues that you wouldn't have with a regular group. The expectations and demands are much higher than usual – but it's very exciting, and the event has been getting a lot of coverage.
We're coming up to our tenth anniversary now, and for most of that time adventure travel has been a growing area. But in the last year we've been really tested in terms of management – and it's not just the downturn, it's been coming for a while. The price of oil in the last two years has led to a massive increase in our costs. Then there's the exchange rate: our trips are mostly overseas, so we pay for everything in dollars. And the sector's got much more competitive; when we started we only had two or three competitors, now it's more like 30 or 40. That means margins are low, which makes it hard when your costs are going up from every angle.
Twelve months ago we recognised that things were changing, so we ran a nationwide series of workshops for the charity sector; we'd meet around ten at a time, to help them develop their programmes and sell their challenges. Charities are getting less income from donations, and their corporate relationships are slowing down – so they're keen to develop their fundraising potential, and we offer a service that helps them do just that. This week I've had maybe five proactive calls from charities wanting a private group. So from that perspective we've never been so busy – in fact next year could be the best ever for our business. But charities need to keep attracting their supporters for that to happen.