My Week: CitySocialising.com's Sanchita Saha
The online entrepreneur on a week of preparations for her biggest ever pitch...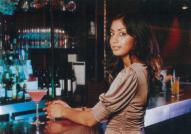 After my Monday morning fix of playing tennis, I started the week with a serious look at my diary to organise myself as efficiently as possible over the coming weeks. It's incredibly hectic right now as we're on the investment circuit to raise the funds we need to launch and market our 'version 2' site and expand the business. I'm very confident about our growth plans, but the state of the UK economy means we're going to have to work harder to reassure investors that their money is safe with us.
I work long into the night completing the spec for the new website, working more on my business plan and financials and preparing my presentation ahead of an investment pitch, which will be made in a couple of weeks to over 70 people. I am determined to conquer my fear of public-speaking if it kills me!
On Tuesday, I'm pleasantly surprised to receive an email from the CBI/Real Business Growing Business Awards 2008 saying I've been short-listed for the 'Young Entrepreneur of the Year' category. It looks like I'm the only girl in the category too, which makes me smile. It also says I have to attend an interview with the judging panel, which includes one of my favourite dragons Duncan Bannatyne. Better start preparing for that one then…