My Week: Daniel Gillespie of Kissalo
Daniel Gillespie launched Kissalo, a sex toy and 'love product' subscription service, just last weekend. Here's how the 24 year-old entrepreneur's first week in business is shaping up.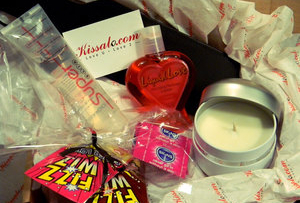 If this all sounds a little garbled, please forgive me. I'm surviving on three to four hours sleep at the moment and it's taking its toll. The website for Kissalo.com, the start-up I've been hacking away at for the last three months, went live only last weekend and I'm now trying to juggle a full-time job with running a business on the side.
Kissalo is a subscription service that posts out a box of adult toys and sensual products each month. The products are chosen using an algorithm which processes all your likes and dislikes and selects the right playthings for you. The first box is usually fairly standard: some silky lubricant, a scented candle, some massage oil, a leather paddle and er... some popping candy (pictured). But depending on whether you're straight or gay, single or in a couple, and your answers to a variety of questions (can pain be a pleasure? Do you like chocolate? etc) the products become increasingly geared to your tastes.
It's early days yet - I have fewer than 20 subscribers - but I still have to get up at around 6am to take the boxes to the post office before work. I'm a web developer at a shop in Shoreditch, so I'll do a full day's work there before heading home to pack more boxes, tweak the site and work on the PR and marketing. If I'm lucky, I'm in bed by 2am.