My Week: Ed Reeves of Moneypenny
The Moneypenny boss on a sweet way to thank the staff - and keeping it in the family.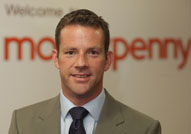 Last Monday I had to head to an important meeting between Wrexham Borough Council and the Welsh Assembly. We are looking to expand, so we are digging away to see what sort of support is available. We want to stay in the local area, but at the same time we know there's lots of people dangling carrots in front of us to look at putting mini-Moneypennys elsewhere. There are limited funds around here, which is frustrating. But the council in Wrexham is amazing and they would move mountains for us, so we don't want to abuse that hospitality. I think moving to London or a big city would be the worst thing we could do. If we were in the capital we'd have a very high staff turnover - we'd probably end up using travellers and that sort of thing. Being based here, we've got almost no staff turnover, which is vital to Moneypenny's success.

Tuesday was a bit more of a tedious day: we were talking about software for the most part. The piece of software behind the majority of Moneypenny's processes is called 'Pam', which we've developed in-house over the last eight years. Now we've decided to take a step back and create Pam version two (perhaps we should have called it Shirley or something). So we're talking to various different contractors and we've also got our own team, with four developers in house. The thing is this is quite a big project, so we're trying to work out how much control we lose over future development if we give it to external developers, versus how much time we'd lose if we did it in-house. The outcome of the meeting was that we've more or less decided to do about 60% of the work in-house and outsource the rest.

I oversee the technology side of the business whereas my sister, Rachel, who I founded the business with, works on what I call the 'people' side. The only real crossover is when it comes to the marketing strategy. The brother/sister relationship works really well actually, although when we first started out we put quite a few processes in place to ensure that if we did fall out the business wouldn't suffer. But without a doubt one of the great things about working with a sibling is that you can turn around and say 'I'm having a dreadful day'. I also feel there's a certain understanding that comes from the fact that as kids you were throwing your toys at each other, but the next day you were the best of friends. Likewise in business of course we've had our occasional moments, but every time it has made us stronger.

Thursday and Friday were really fun days. On Thursday I spent half the day running around getting cash from various banks and Rachel cleared the local supermarkets out of Lindt chocolates. Then Thursday night we got back together with our piles of money and piles of chocolate and we opened every single box, dug out one chocolate, screwed up a £50 note, wrapped it up in the foil and put it back in the box. Then the next day we went round and gave every member of staff a box of chocolates and said 'this is for being so wonderful'. You could tell who the greediest ones were because they were the first ones to shriek with delight when they ate their way through the chocolates to reach the £50 note. We've done similar things before too. The thing about an incentive like a Christmas bonus is that people expect it, so it doesn't really mean that much. When we thank staff in ways like this, we think the impact is far greater.


Moneypenny is an outsourced PA service set up by brother and sister Ed Reeves and Rachael Clacher, after Ed became disenchanted with traditional answering services.