My Week: Enterprise Nation's Emma Jones
The home business expert juggles TV appearances and awards dinners with her client work...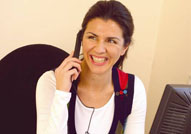 The week began on an exciting note when I appeared on BBC's Sunday Life programme to talk about the rise in popularity of home-based business. This came ahead of the launch of Small Business Week on Monday at the BT Tower, where we introduced the 2008 Home Business Report over a roundtable discussion. The report shows a 16% increase in the number of home businesses over the past 12 months – what I like to refer to as 'the bright spot in the UK economy'. Amidst headlines of economic turmoil, I was impressed with the confidence shown by Bill Murphy (BT Business) and Peter Jones (Dragons Den) towards the small business sector. When asked how small businesses should respond to current market conditions, Bill Murphy replied: 'Focus on three C's; Confidence, Customers and Cash. Trade your way through this.'
This was never more evident than when I left BT Tower to head to private members club, One Alfred Place, where we filmed six of the home businesses profiled in the report. It was great to see them filled with energy and brimming with confidence about the future. Similarly, the enthusiasm from budding entrepreneurs was evident when I appeared at an event in London on Wednesday for 'Motivating Mums', a group of women who are starting and running their own business. I'd been asked to talk to the group on how to get a book published, after my own book ('Spare Room Start-Up – how to start a business from home') was published earlier this year.
I was looking forward to appearing on BBC's Working Lunch on Thursday, so I was disappointed to get a last-minute call saying it wasn't going ahead as the banking crisis had taken another turn that morning. I can't help thinking it's even more important that programmes like Working Lunch cover home business on their show at a time like this. Let's have a bit of optimism and something to get excited about!