My Week: everywoman's Karen Gill
The everywoman co-founder tells us why Enterprise Week is the busiest week of her year...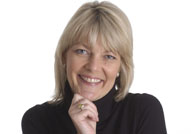 Like most small businesses, this week was a mix of everything – jumping from one discipline to another. We spent the Monday morning on budgeting; this is the busiest time of the year for us, thanks to Global Enterprise Week, but we still need to get all our plans sorted for 2009. This was actually a review of our budget – something we have to do on an almost weekly basis at the moment (and now VAT is changing on Monday, we'll need to sit down with our finance manager again!). In the afternoon we also had a meeting with our marketing agency; they wanted to give us some preliminary feedback on a big research project they've been doing for us, looking at our brand positioning in the marketplace.
Tuesday began with a chiropractor appointment (for my stressed neck), and then we had a big ops briefing for our entire team. We had our biggest event of the year on Wednesday – the National everywoman Conference, which was held on Women's Enterprise Day – so we had to go through all the logistics and so on. Our biggest client came to town for the conference, and they wanted to have our 2009 planning meeting while they were there – so we ended up doing it at the venue that afternoon. Afterwards we were in town rehearsing until about 11pm.
Wednesday was a pretty full-on day: we were back in rehearsals at 7.30 (it's a big event, for about 400 people) and then we had to look after all the different VIPs that showed up during the course of the morning. Baroness Vadera, the Minister for Competitiveness, opened the event, and then Simply Switch entrepreneur Karen Darby gave the keynote address – she was fantastic, she went down a storm. We also had a panel discussion with four entrepreneurs, and four different workshops running throughout the day.