My Week: Glasses Direct's Jamie Murray Wells
The eyewear entrepreneur on lederhosen-wearing frauleins and fussy French eaters.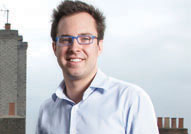 Last Tuesday evening, Laurence Robertson, who is the local MP for Tewkesbury, was launching his research company at Parliament, so I went along to that. Laurence was helpful when we were in the early stages of the business, so I was keen to see what he was up to in terms of launching his new company. He was the local MP when we had a depot in Gloucester in the early days. Also, Tewkesbury is still fairly close to our Swindon outlet, so I wanted to go along and support what he was doing.

On Wednesday I went for lunch at Google which was interesting because they have an awesome canteen. It's got everything in there, every delicious food in the world. I suppose that's what you can do when you're a company that has an 85% gross margin: you can afford to reward your employees like that. I was meeting some guys from paid search and conversion just to see what kinds of opportunities are available at Google for companies I'm involved with.

Then in the evening we took some suppliers to London Bierfest in Billingsgate Market. The event is modelled on Oktoberfest and you basically hire a table and there are gallons of lager which are brought by frauleins wearing lederhosen. We decided to take some of our advertising partners along – the people who organise our TV advertising, the people who organise our online advertising and so on. And it was very good fun, if you like that kind of thing.

On Thursday I spent the whole day with the Prince's Trust, because I am a volunteer for them and I was doing some training on how to mentor people who need advice on setting up their business. The Prince's Trust gives grants of up to £5,000 typically to underprivileged people who would otherwise have difficulty raising money anywhere else, and other people who haven't had as much support and luck as I've had setting up my business. I was lucky in that when I started my company I had some great mentors around me and I thought it would be good to give something back.

And then last Friday I went to our Swindon office to induct eight new starters. Part of my role at Glasses Direct is to make sure that everybody understands the history of the brand. We have more than 50 staff now, who are split between Swindon and London. I spend most of my time in London, but I try to spend a day a week in Swindon as I like to get to know all of the staff and so they know that I'm approachable. Meeting new staff also provides useful feedback for me because when we get new starters I ask them what they and their friends and family think of Glasses Direct – it's good to get a new perspective. I also try to impress upon them the value of customer service, so I tell them stories of how we've gone out of our way for customers – when we've hand delivered frames, for example. I think very often as an online business, customers can perceive you as being fairly faceless; it's our job to put a face to the company.

On Monday we had our weekly trading catch-up where we put on music like 'Eye of the tiger', go into a meeting room and talk about the last week's results. So we will look at graphs and our KPIs and measure the performance of our management team. This Monday we also had a visit from our virtual mirror software team, which is based in Paris. Virtual mirror is the technology we use on the website where you can take a picture of yourself, upload it and see yourself wearing a pair of glasses. After the meeting, we took them out for lunch at Canteen on Baker Street renowned for English food; it offers things like fish finger sandwiches and stuff like that, so I would have thought that the French gave it lots of disapproving looks.


Jamie Murray Wells is the founder and executive chairman of Glasses Direct, an online eyewear retailer.