My Week: Gü's James Averdieck
The Gü entrepreneur (and self-confessed chocolate extremist) on his typical working week.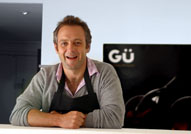 In an average week, I probably spend about 20% of my time working on our product range, checking the quality of existing products and looking at new ideas. At the moment we have a new range of chocolates that's about to go live, some liquid caramel chocolate balls. We're also launching a hot chocolate, which is about to go into Waitrose – we've been testing it in their café for the last few months. We like to do this – we also go to quite a lot of events, like the Ice Rink at the Natural History Museum (where we had a chalet). We always like to experiment with our stuff on a small scale before we roll them out.
I probably spend another 20% of the week with my team - we have about 25 people in the UK, split across sales, marketing, product development, operations and finance. And I typically spend a day every fortnight in France, where we have 12 people (mostly in sales and marketing).
We've just done our annual Soufflometer, a day when we all take a trip to our factory and everyone - no matter what they do - has to make our chocolate soufflés. This year there was hot competition, as ever - I finished about half-way down, so there are clearly some very good soufflé-makers in the business! But for me, the key thing from a business point of view is that if you can create a chocolate dream, you've got a better chance of selling a chocolate dream.