My Week: Helen Rankin of Cheeky Wipes
The baby product entrepreneur on dealing with sick children and having your in-laws as employees.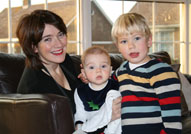 I've got three children, and since I have the flexibility of running my own business, I tend not to work 'normal' hours. I usually do full days on Tuesday and Thursday and then a half day on Wednesday. My husband works in London and we live in Seaford (which is between Brighton and Eastbourne), so he has a horrible four and a half hour round trip every day - that means he doesn't get to spend a lot of time with the kids during the week, although he's usually back by bedtime. So I wanted to have a job that allowed me to spend time with the children.

It's normally a work day, but this Tuesday I woke up to find my eldest son, Archie, who's five, had a massive rash all over his face. So it was to the doctor's surgery in between catching up on my emails from the weekend and all the other things I have to do on a Tuesday morning. Predictably, the doctor said it was a 'non-specific virus' (which they always seem to say). When we got home, Archie sat on the sofa with a DVD while I caught up with work – sending off orders, replying to emails and sorting out my diary for the week. Then that afternoon I spent catching up with web MI (management information) to see what was happening with traffic figures, where traffic's coming from and so on, and then taking the appropriate action.

During Wednesday morning I have to complete the dullest task of my week: getting the books up-to-date. That said, I do have somebody who comes in to help me stay on top of it all. This is the admin side of the business – opening up the bank statements, filing, digging out receipts, all that really mundane laborious stuff that isn't my forte. I know if I'm left to it I'll just leave it all in a big pile until I absolutely have to do it. And then Thursday afternoon was my time to spend with the kids: I took them to soft play – a big room with lots of squishy toys where they can bounce off the walls and scream their heads off.

Thursday is my day for marketing. This includes both relevant social media marketing, like Twitter and Facebook, but I'm also doing some direct mail at the moment. When it comes to marketing for Cheeky Wipes, there's nothing better than word of mouth. If people use the product and they like it, they will generally tell at least one or two of their friends about it, which is very important for us. And I love Twitter. I think for people who don't work in an office, Twitter gives you that feeling of community: it's that watercooler conversation where you might talk about something work-related, or perhaps just what you watched on TV last night. And that's exactly what Twitter gives all us people who work from home. I also sent an email to David Fannin of Sorcit, who sources all of my products for me, to place an order for some more bamboo wipes.

There are obviously weeks where I do a lot more than that. October, for example, was just hellish: I went to one trade show, where I exhibited for three days, and was home for just one day before repacking and getting everything ready for the Baby Show at Earls Court. I'm lucky in the respect that my mum works fairly flexible shift patterns, so she will come and stay for a week if I need her to. And she's not the only family member who helps me out: my father-in-law has converted his garage into a pick-and-pack facility for Cheeky Wipes. The majority of the time it's absolutely brilliant. And the times when it isn't brilliant, I bite my lip and say nothing.

Helen Rankin founded and runs Cheeky Wipes, which produces and sells environmentally friendly, reusable baby wipes.