My Week: Huddle's Andy McLoughlin
The internet entrepreneur on pub quizzes, being a rubbish CTO and mixing business and pleasure.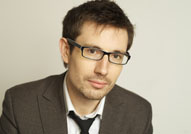 There are exciting things happening at Huddle right now, so some of the other stuff (including going to the gym) has been falling by the wayside. First thing this morning we had our consultancy company in; we're doing a bit of work with them on finalising our Microsoft Office product, which lets you access all of your documents and files from within Huddle. Office is certainly important, but I think what's most important is not the individual products but achieving the overall goal of us being able to help people to be able to work together better.

The launch is certainly keeping the team here busy. We run what's called an agile development process, which means that at any time our team can be working on any number of different things. It used to be my responsibility to co-ordinate what the team were doing, but my role has changed quite a lot over the past three years. Alistair, my business partner, looked after the commercial stuff and I took care of product development in a quasi-CTO role. But the problem is that I'm not a developer, so I was a cr*ppy CTO. Then we poached Jonathan from lastminute.com to do the job for us. He's been instrumental in getting our team running from what we call the JFDI process – just f***ing do it – to a proper agile process where stuff can be properly planned.

Alastair takes care of the dry HR stuff, he makes sure people get paid on time and stuff, but one thing we've always been hot on is making sure Huddle feels like a family. In practice, this means that we all have breakfast together on a Monday, we have music playing the whole time and we try and have a company night out once a month. Last Thursday, we hired the upstairs of a pub and a couple of the guys organised a pub quiz. We had a round on sport, a round on general knowledge, and then, a round on Huddle! The company is now three years old and a lot has happened in that time; there are certainly some funny stories. To an outsider, it probably sounds quite cliquey and not that much fun but it was actually quite good.

Ali and I are over at HSBC tomorrow morning as we're one of the ten national finalists in the HSBC Start-Up Stars awards. So we'll be there suited and booted to hopefully impress the judges enough to award us a cash prize that we can then spend on marketing and things. We've done pretty well so far this year: we were called 'the next Google' by Business Week on a list of their top 50 start-ups to watch and the Financial Times named us one of the top-10 most promising start-ups in the UK. Recognition is nice, but it's easy to get lost in it all; we've got to stay focused on delivering on the promise.

I'm having breakfast with Richard Moross, the founder of Moo.com, later this week, because our plan is to expand into the US in early 2010. Moo did that successfully this year, so we're just taking some learnings from what they've done. I spend a lot of time with friends I've made since setting up the business. Three years is a long time and I've been lucky enough to meet a lot of really nice people, some of whom I know think of as my closest friends. It's not just a work thing any more.


Andy McLoughlin is the co-founder and strategy director of Huddle, a network of online workspaces that allows you to collaborate, share documents, plan projects and hold online meetings.