My Week: The Hut Group's Matthew Moulding
The online retail entrepreneur on a week when he took home a prestigious national enterprise award...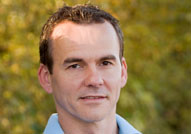 Christmas is the busiest time of year for our business, so we spent the first half of Monday in the office with the team, planning the week ahead and focusing on the essential deliverables. We also met with a venture capital firm who wanted to get a better understanding of the business and our plans for the future – we're attracting more interest at the moment, as a result of the positive PR that the competition (the Bank of Scotland Corporate £35m Entrepreneur Challenge) has generated. We're always open to networking, but we are not really in a position to sell at the moment - management are flat out delivering both new websites and product categories, so it would be a major distraction. We'd also be under-selling the business, given the current financial market conditions and its substantial growth potential. The business model is also quite cash-generative, so we've been fortunate to date that we've not had to seek outside investment. Our plan is likely to be to keep focused on running the business for the next couple of years and then see where it's positioned.
But really, last week was all about the competition (the national final of the BoS Challenge) on Wednesday. I spent Monday afternoon and the whole of Tuesday locked in the boardroom going through our presentation. Our business can be difficult to understand, and my worry was that if the judges didn't get it in the 15 minutes that we had to make our presentation, our chances would be all but over. And our theory was that being Northerners, we might not be as polished as some of the competition who clearly also had very strong businesses! So we put a huge amount of focus into the detail of the presentation, making sure that we got across a number of key messages that we felt could be important to the judges. We also produced a really detailed A5 info pack for the desks, complete with appendices, as well as a 2-minute video clip about the business to get our case across.
The presentation covered our history (because you have to show your entrepreneurial side in getting the business to where we are now); about why we're in a really good space (we're a retail business, but in a very high-growth segment); about our business model; and also about how we're delivering on our growth plans. It was important for the judges to see that although we're a £27m business now, next year we're planning for more than £60m turnover – supported by the launch of some new contracts that have already been signed. We've got 10 websites launching in the first quarter of next year, including some major brands.