My Week: James Perkins of Concert Live
The music entrepreneur on new investors, cutting a deal with Sir Elton John and mystery shopping...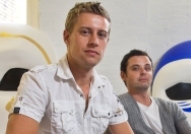 We're just going through our first investment round, so I've been meeting a couple of potential backers in the last week. The business is three years old and we want to grow into different markets – we've already expanded into Europe, but we're thinking now about more global operations. So we're talking to VCs, angels, high-net-worth individuals, and even big entertainment companies who are interested in taking a stake. It's been a learning curve for us, because different investors with different exit strategies are obviously looking for different value propositions. We're quite far down the line with a couple now. Although the economic climate is depressed, there seem to be more people looking to invest in intellectual property and innovative new businesses, partly because of all the tax reliefs available.

We have a long-term deal with Sir Elton John to cover his full European tour - we're on the third leg of at the moment. I manage all the deals at ConcertLive, and we're having some interesting conversations at the moment about the development of that relationship. We're looking to sign longer term deals with artists, where we buy the licence to record their tours for a certain amount of time, and then agree some sort of profit or revenue share. This is the first case where we're proven that we can reach a better understanding of the artist and their core demographic by working with them through different tours – developing our marketing strategy and our product range to match the needs of the customer. From selling to about 7 or 8% of those attending on the first tour, we're now up to about 18% - so we've more than doubled the revenue potential for the artist.

For instance, there's normally a 6-7 minute delay before we can get the product into people's hands, and the typical Elton John fan really likes to leave promptly. So now we include a third 'Encore disc'; there's a code printed on top and the customer has to go online and download it. This works for us in two ways: one, we have the product on all the exits as people leave the show, with no 6-minute delay; and two, because they have to go online to get it, we can capture a bit more information about them like their email address and preferences – so we can market similar products to them. We've also persuaded management to let us advertise on the big screen at arenas – not in an in-your-face way, but just so we can make fans aware that a recording is available.

ConcertLive also runs a really successful university programme, so I've been up in Birmingham this week for the start of the term. It's a work experience scheme for students on event management courses at eight big-city universities – we go up there and talk to the students, try to enthuse them about what we do, and then they sign up to work at our local events. So if we have a concert in Leeds, say, we have a network of university students – and if they do a certain amount of work experience, it counts towards a module of their degree. So that's good fun, and we hope to keep developing that one.

We've also been running some checks to make sure our at-concert operation is all coming together – we felt we'd taken our eye off the ball a bit, so we've been making an active effort recently to just drop into concerts and surprise people, find out what's happening on the ground (I was in Toulouse this week). Losing that closeness is a big risk as you grow, and it's also very refreshing – it takes us back to the start of business when we were actually running all the stuff at the concerts as well as doing everything else!

James Perkins set up Concert Live in February 2005 with his school friend Adam Goodyer (after a slightly drunken disagreement over the last track played at a Massive Attack concert in London). The company aims to bring live music fans new and exciting ways to experience recorded live music.