My Week: Jennifer Irvine, Pure Package
The founder of Pure Package on how she juggles her business with the demands of family life...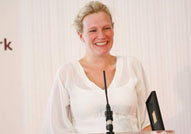 Monday started as ever with my morning delivery of food from Pure Package. I still get a thrill from having my food delivered; it is like Christmas every morning! I had a breakfast meeting at the Mandarin Oriental with some people from Russia, who are interested in franchising Pure Package in Moscow, and then headed back to the office. I'm feeling a bit swamped at the moment, so I was trying out a new PA for the day, and I also tasted some new health food bars we've been developing. Later, I had a Save the Children reception at Buckingham Palace. I do a lot of work with charities: I'm very keen on improving quality of life, not just for my clients but for the whole world. And my 2 year old daughter was very impressed that I'd spent the evening at the Palace and met a princess!
Work-life balance is a priority for me. I put my family first, so I work Monday, Wednesday, and a half-day on Friday. So I spent Tuesday with the kids: there was the nursery run with my two-year old Lily, and a music class with my other daughter Jasmine, who's one and a bit. When the girls napped I went to see my friend Elizabeth Jordan, an artist who's heavily involved with the charity www.womenforwomen.org. She's also Russian (and her husband Boris among other things used to run the Russian national TV station), so she was able to give me lots of advice on the Russian market and this possible franchising deal. In the evening, I made a nice steak for my husband – I get all my meals delivered by Pure Package but I often add to that, so I'll eat with my kids at 6 and then again with husband when he gets home at 8.
Wednesday began with a chat with my fantastic mentor from Business Link, followed by my 34-week midwife appointment (I'm pregnant with my third child). Then it was back into the office for a meeting with Thomson Reuters – they want to film me for a day to find out why I chose to locate my business in New Covent Garden, it is the biggest fruit and vegetable market in the UK, I strongly believe that healthy fresh ingredients taste better and so people on my programmes can stick to their diets more easily, so I was approving storyboards. Then I went into Soho to meet Brendan Quinn of The Causeway (a high-end private island retreat), who's interested in his clients having my food delivered when they return to society, and then it was over to Goldman Sachs to talk to their women's network about improving their quality of life. Apparently it was the biggest turnout they've ever had – I did a talk and a cooking demonstration, showing them some recipes and clever tricks (like how to make brunch for a dozen people in ten minutes). Afterwards I went to dinner at my friend Iqbal's restaurant Roast, where I ate with a fascinating human rights lawyer called Mark Muller (also known as the Real Mark Darcy!).