My Week: Julian Hakes of Julian Hakes London
Architect turned shoe-designer to the stars Julian Hakes on catwalk calamities, meeting the Prime Minister, and why shoes are just like bridges.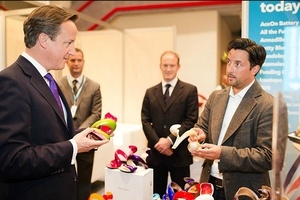 It's hard to believe that just three years ago I was an architect, designing buidlings and bridges and now I'm a shoe designer. I guess that's recessions for you. My first invention, the Mojito shoe, came about just as the work started to dry up. I was entering lots of architecture competitions, which are basically just glorified tenders for work - except that the client gets something for nothing. After we got down to the final two in one of these 'competitions' and lost out to a vastly inferior project, I thought, 'This is ridiculous. I refuse to keep doing these things.'
That night, I was alone in the studio, drinking mojitos. I had been doodling various designs for shoes for a few years but that evening I found myself taking my shoe off, wrapping my foot in tracing paper and masking tape and drawing on my foot with a black pen.
I created a spiral shape that supported the heel and ball of the foot, but left the middle free. You don't actually need anything beneath the arch of your foot: otherwise, when you stood on your toes, you'd fall over. In that way, shoes are a lot like bridges. The Mojito (yes, named after the cocktail) started out as a men's shoe, believe it or not. It was meant to be sporty in a beach way. But when I looked at it the next morning with my PA, she turned to me and said, 'Shall we put a heel on it?'