My Week: Lisa Hilton of Rehab London
Her products are a favourite of Simon Cowell, keep Strictly's dancers blemish-free and assure the dewy complexions of the cast of Downton Abbey. Meet Lisa Hilton, founder of natural skincare range for men, Rehab London.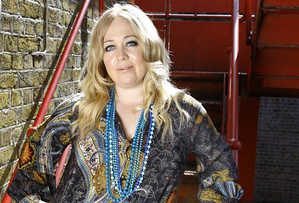 I've been a hair and make-up artist for more than 20 years. I've worked on hundreds of movies and TV shows, from A Week With Marilyn to Strictly Come Dancing. In 2007, though, I decided that I wanted to put all that I had learned from working on people's faces to launch my own skincare business, Rehab London.
Men have always been a bit short-changed in the skincare department. Big beauty houses like Procter & Gamble and L'Oreal tend to launch their men's products as an afterthought: X or Y 'for men'. I wanted to create a men's skincare brand that was tailored exclusively for them, that was natural on the inside but a bit rock'n'roll on the outside. Going for the male market also made sense from a business point if view. If you want to launch a range of women's skincare products you need to have a lot of cash behind you. It's extremely competitive.
These days I spend a lot of my time working on product placements and PR. I still have lots of friends in the industry, so I spend about two or three days a month dusting off my make-up brushes and working on the set of Downton Abbey, Strictly Come Dancing and X Factor - I always take a few Rehab London products with me of course. The cast of Downton Abbey liked the products so much that they asked to meet me. Allen Leech, who plays Tom in the show, was a particular fan. And I know for a fact that Simon Cowell always keeps a pot of Rehab London's Revive Survive cream on his dressing table.