My Week: Liz Jackson of Great Guns Marketing
The telemarketing entrepreneur on celebrity role models, and why she couldn't be a stay-at-home mum.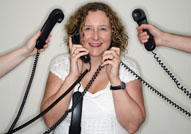 Earlier this week, I had the opportunity to speak to secondary school students in our local area at an event called Step into Leadership, which is about trying to get them to aspire to management and leadership positions in business. I had my doubts, prior to the event, but it was really brilliant. The kids were really interactive – and I wasn't expecting that. The guy from the council spoke before me and there was just a resounding silence, but then I stood up and they were actually really responsive (although admittedly I had to bribe them).

It was interesting because I asked the students who their role models were. Although I think celebrity entrepreneurs are appealing more and more, sadly, for the time being, children's role models will continue to be the people they perceive to have become successful overnight. I think the popularity of shows like X Factor and I'm a Celebrity means that we really are fighting against celebrity culture – it's really hard to make business look as sexy as that. But I definitely think programmes such as The Apprentice, Dragons' Den and The Secret Millionaire are helping raise the profile of entrepreneurialism.

Yesterday I went to the Everywoman business awards at the Dorchester, which was brilliant. We heard Sarah Brown and Fiona Bruce speak and the journalist Jenni Murray won an award. It was really great to see so many businesswomen achieving great results, even in a recession.

Celebrating success is really, really important. And I think it's especially important among women. Women aren't as successful in business as men at the moment, despite the fact that we contribute a huge amount to the British economy. And if we were as successful as businesswomen in America, we would be making a much bigger contribution than we do at the moment. What's very important is that we continue to encourage women to continue starting up and growing their companies. They've got the talent and they've got the ideas, but they often don't have the confidence. I think by celebrating the success of trailblazers – people who've been there and done it – it gives others the confidence to say 'I could do that'.

On Monday I went to a sales meeting with one of our biggest clients where they committed to working again with us next year, which is brilliant. My job is a bit of a mixed bag, really. I like to have direct engagement with our existing clients but I also help our new business team win key new accounts. I'm also involved in mentoring our managers – I'm quite passionate about talent development within the business.

I do also try to attend some networking events. I'm a companion at the CMI and I go to a lot of their events, which I really enjoy. Last week, I went to Coutts for an event to hear Gordon Roddick, the late Anita Roddick's husband, talk to around 12 of us about exit plans. I think most entrepreneurs should really have an exit plan and I'm thinking about one but it's not imminent at all. The one I'm working on has to be pretty flexible, because I change my mind all the time.

It has to be said, I have a very good work/life balance. I'm married with a daughter of two and a half, so my home life is very busy too. I have no problem turning off my emails in the evenings and at the weekends I don't give the business a second thought. Up until my daughter was about a year and a half, I probably only worked two and a half days a week. But I've been full-time this year because it's been a recession, so it's been all hands on deck. I don't know if I could go back to being part-time – I'm not a very good stay at home mum, if I'm honest.

Liz Jackson runs Great Guns Marketing - an outbound B2B telemarketing agency.